GAZPROM advanced technical solutions catalogue 2013
« Back
07.08.2013 12:21
"PSO "NefteGazDiagnostika" LLC
Composite reinforcing sleeve Smart Lock (UKMT)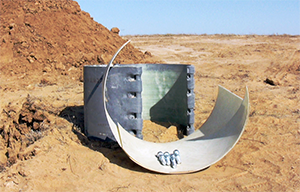 This sleeve is used for elimination of inner and outer defects of mechanical and corrosion nature, of under-ground and offshore gas pipelines including the cases when loss of metal mass is up to 100% of the rated wall thickness. This repair procedure requires no hot works.
Smart Lock is like a clamp, comprising of two half-sleeves, articulated at a side and bolted on the other side. The sleeve operating principle is as follows; by increasing bolt torque considerable contact pressure is applied on the outside surface of the pipe, which compensates operating pressure inside the pipeline.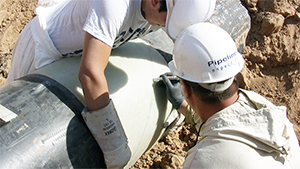 In contrast to the other technologies featuring installation of the sleeves without pre-stressing, this sleeve provides for quality repair without suspension of product transportation and decompression of the pipe. Diameter of the sleeve changes along with pressure variations inside the pipe, i.e. the sleeve 'breaths' along with the pipe.
After completion of repair works, all process holes and gaps are filled with special material included into delivery set. As result, fibreglass construction of the sleeve becomes solid.
This technology is applicable in wide range of standard pipe sizes (from 89 mm to 1,420 mm). This technology warranties complete overlap of the repaired area, simplicity of installation, minimal scope of earthwork operations and quick repair. The last feature directly reduces repair costs.
The bolts manufactured in batches are used for tightening the sleeve. To prevent the sleeve from becoming loose under long-term vibration loads, the bolts are tightened using the wedge lock washer.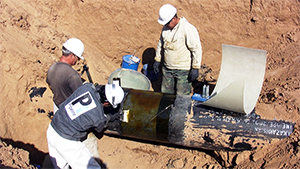 This way Smart Lockprovides for feasible, simple, quick and reliable method of repair of the field and main pipelines.
For instance, to install the sleeve on a narrow pipe, it is enough to dig small pit manually. Duration of repair of one defective section is about 15-20 minutes. Definitely, this is a real advantage in presence of groundwater, when duration of repair and pit size are the major factors to be considered. All components of CRS can be easily lifted by two installers even in case of the pipes 1,420 mm in diameter.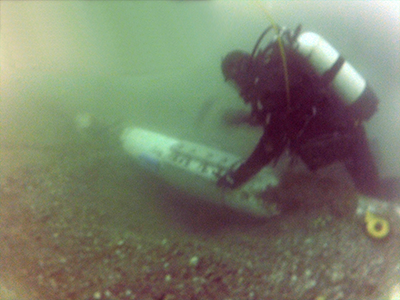 Considering off-shore pipelines, Smart Lock can be installed down to 30 m per one diving, upon condition of pre-cleaning of the pipe. Not so much space round the pipe is required, especially under the pipe. Applied glue is polymerized at relative humidity 100%, and pipe wall temperature down to -7°C.
Consequently, Smart Lock provides for overhaul of the pipeline:

■ without swaying the pipeline
■ without shutting-down product transportation
■ without depressurizing the pipe
■ at minimal scope of earthwork operations; without need for hot works
■ featuring high technological effectiveness of the articles and materials utilized
■ featuring high rate of repair works
■ without employing the qualified specialists

Smart Lock repair set includes:
■ epoxy based filling compound for levelling
■ adhesive compound (super-glue)
■ fibreglass insert
■ tightening element,comprising of two half-sleeves articulated at a side and bolted at the other side
■ magnetic marker to be used by the pigs for Smart Lock detection
■ electromagnetic marker providing for detection of the pipeline section repaired using Smart Lock
■ article passport
■ operating manual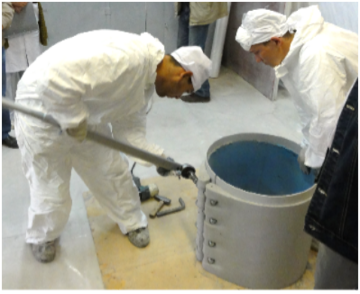 During manufacture of the sleeves, quality control is maintained, and each article is tested for maximal load. Results of the tests are entered into the article passport.

Smart Lock is manufactured for climatic zone YX/1. Its placement category is 5 as per GOST 151500, and the lower threshold of ambient temperature of -60 °С.
Smart Lock material emits no hazardous volatile substances when heated up to +110 °С.
Fire and sanitary (health-related) safety of Smart Lock complies with GOST 12.1.044. The sleeves are provided with sanitary certificate. The sleeves are permitted for application in oil and gas industries.
Pipeline section repaired using Smart Lock can be operated without maintenance and repair for at least 50 years.
Smart Lock are used by ROSNEFT, LUKOIL, TNK-BP, Gazprom-Neft, RITEK PJSC, SIBUR HOLDING, Achimgaz PSJC, and other Russian and international companies.

Kazakhstan is one of the largest consumers of Smart Lock. In 2008, the Ministry of Energy and Minerals of the Republic of Kazakhstan approved the industry standard for application of Smart Lock.
As the companies of South-East Asia show strong interest in Smart Lock, representative office of NEFTEGAZDIAGNOSTIKA production and construction union was established in Jakarta, Indonesia. Presently, the contracts with major Indonesian companies are being negotiated.
Catalogue of advanced technical solutions of PJSC Gazprom, 2013, p. 68